Newburgh Community Trust
Sustainable Newburgh
The Sustainable Newburgh Project
We all need to start living more sustainably and reducing our carbon footprint.

All over Scotland, communities and individuals are finding ways to live more sustainably...there are projects encouraging home energy saving (such as in Fife's East Neuk and St. Andrews), successful campaigns for allotments for more locally-grown food (such as in Falkirk), initiatives supporting the use of low carbon transport (such as new maps of cycle paths in Linlithgow) and renewable energy installations, including biomass district heating schemes (such as in Banchory), as well as photovoltaic or solar panels, domestic wind turbines and woodfuel boilers on individual properties the length and breadth of the country.

Newburgh is no exception to all of this, which is why Newburgh Community Trust commissioned the Sustainable Newburgh project with the aim of placing Newburgh at the forefront of the drive to create sustainable local communities in Scotland. We wanted to help those people living and working in and around the Newburgh area to live more sustainable lives in whatever ways they wished.

The Sustainable Newburgh project team surveyed around 2,500 people in and around Newburgh to find out what they felt were the most suitable options for making their lifestyles more sustainable. The project considered as many ideas as possible from the people of Newburgh, focusing particularly on four areas: Energy, Food, Transport and Waste, with a view to exploring how we can reduce the environmental impact of our daily lives within each.

This involved asking local people (postcode area KY14 6**) for their ideas and opinions of what might work for them, as well as finding out what the environmental impact of the community currently was. The information was used to compile a 'community wish list' of potential future low carbon actions.

It's now several years since the project was completed, and a number of things have changed, but the reports arising from the process have been retained for archive purposes. To view or download a copy of the final survey report, click here (PDF File 5.74MB) and for the end of project report click here (PDF file 367KB).
---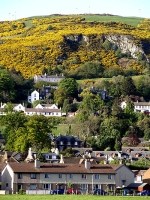 The Sustainable Newburgh project was made possible by the generous support of the Climate Challenge Fund
---
. Get Involved And Make Newburgh A Better Place