Newburgh Community Trust
Wind Farm Project
A Vision For The Future
As many will already be aware, Newburgh Community Trust has lodged an application to erect three wind turbines which are intended to generate renewable energy equivalent to the average electricity used by consumers in the KY14 6** area.

Onshore wind is the most developed robust and reliable renewable technology. The proposal will generate renewable power approximately equivalent to the electricity consumption of the KY14 6** area. If approved, these turbines will generate electricity with no environmental impact, round the clock and round the year for as long as the wind blows.

Profit from this endeavour, if it goes ahead, will be used entirely for the benefit of the community. Several communities on the west coast of Scotland are already benefiting from similar community owned renewable energy projects; Newburgh will be the first on this side of the country.

Update
Sadly the project did not receive approval from the Local Planning Committee despite the support of many local people. The main planning objection was the adverse effect the turbines might have on the local landscape - a view shared by only a few residents. An appeal was made to the Reporter's Unit but this was turned down and currently NCT has no plans to resurrect the project.
---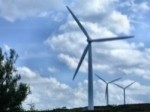 Although we have the best wind resource in Europe, the UK 's first community-owned wind farm, at Harlock Hill in Cumbria, was connected to the grid only in 1997, and there have been only a handful since.
By contrast, in countries like Denmark community wind power is already well established, and the range of benefits from local wind turbine developments is now taken for granted.
Here in Newburgh we have a great opportunity to stand right at the forefront of a new era in the quest for clean and renewable energy.
---
. Get Involved And Make Newburgh A Better Place