Newburgh Community Trust
Waterfront Project
What Has Been Purchased?
Robertson's Pier and the three smaller piers between West Shore Road and East Shore Road have been purchased by Newburgh Community Trust on behalf of the people of Newburgh.

Pier Restoration
A major repair has been carried out on Rennie's Pier involving the building up of a collapsed section. The work is a major improvement but it has also highlighted further repairs may be required both on other parts of this pier and the one at the foot of West Shore Road. One long-term resident in the town has remarked, "This is the first work carried out on any of the piers for more than half a century." So the Community Trust is looking after part of Newburgh's heritage.
---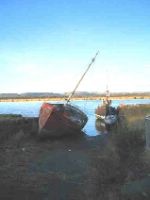 Newburgh harbour was at one time busy with the transshipment of cargoes from vessels too large to sail upriver to Perth, but the town's traditional industries, which also included fishing, malting and the production of linen, floor-cloth and linoleum, are long gone, and we need to look to the future.
---
. Get Involved And Make Newburgh A Better Place