Newburgh Community Trust
Making A Difference In North Fife
Welcome to the Newburgh Community Trust Website
In recent years the people of Newburgh have shown what can be achieved through working together with a number of public agencies and funding bodies. Several local groups have had great success in promoting various projects and have taken pride in the finished work. To help continue this trend Newburgh Community Trust has been set up to assist in taking further projects forward. This website sets out useful information about Newburgh and about the Trust, which can be accessed via the links on the left and will be updated on a regular basis.

Newburgh Community Trust is a registered Scottish Charity SC036332 and a Scottish Company limited by Guarantee SC280390.
Current Projects
The Trust's main ongoing projects are the improvement at the waterfront, and in view of recent encouraging news, a collaboration with the Newburgh Train Station Campaign aimed at maximising the chances of reopening the station.

Lochmill Reservoir has been bought, thus bringing to an end a journey that started in 2007. The purchase means Newburgh is the first town in Scotland to purchase a reservoir. Other than a few minor improvements and safety measures there are no plans for the site.

A more recent development is that NCT are currently negotiating with Fife Council over the ownership of East Shore Park. Under the Community Asset Transfer (CAT) scheme this sports field, which has been home to Newburgh Junior Football Club, would then belong to the people of Newburgh. The plan would be for the football club to continue to use it, but more community use would be made of the park and the pavilion. As part of the CAT process the Trust has to show that there is local support. Consultation forms are now available from Graham Strachan on grstrachan@btinternet.com or from Survey Monkey on the following link:https://www.surveymonkey.co.uk/r/ZY3FMWW. Please give us your support.

Updates on the various projects can be found by following the links.
---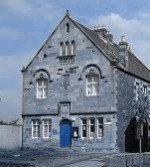 A Royal Burgh with a population of around 2000, Newburgh is picturesquely situated on the south shore of the Firth of Tay in North Fife, Scotland, within easy distance of Perth, Dundee, Cupar, St Andrews, Kirkcaldy and Glenrothes, and about an hour's drive from both Edinburgh and Glasgow.
---
. Get Involved And Make Newburgh A Better Place